Ulm Cathedral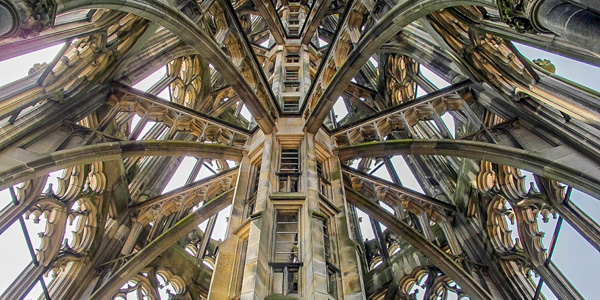 The lacy Gothic stonework supporting the tower of the Ulm Cathedral. (Photo by Gary A. Baratta)
The Ulm Minster is one of the greatest Gothic churches in Europe
The 528-foot tower of the Ulm Cathedral dominates the city. (Photo by S.I.B Fotos)
One of the world's greatest Gothic cathedrals soars above the Danube River in a glory of stone tracery and sky-scraping spires—and the carved stonework up close is even more impressive.
The Ulm Minster's claim to fame is the world's tallest church spire, towering 161.53 meter (530 feet) above the ground in elegant swoops and pinnacles of honey-colored stone.
Climbing the 768 steps to the top of the main spire is a German tourism rite of passage—and offers stupendous panoramas across Swabia and neighboring Bavaria.
This massive Gothic cathedral was begun in 1377, when this proud city of roughly 10,000 souls decided to build a cathedral that could hold 20,000 worshippers at once.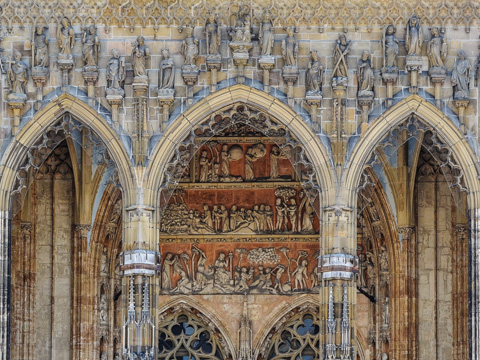 The carvings around the main portal on the Ulm Cathedral. (Photo by Roger Joseph)
Work continued doggedly until 1543, when funds ran out—it should be noted that it was generations of the inhabitants of Ulm themselves who paid for this; no church, royal, or noble money was involved. (Which is why funding dried up when it did; Protestant Reformation, you see.)
It wasn't until 1844 that the city got back to work on it, solved the engineering issues of stacking so much stone so high without it cracking, and was able to lay the final steeple stone by 1890—a good 513 years after work was begin.
Before going in to tackle that tower, take a few minutes to examine the masterful thickets of Gothic and early Renaissance statues and panels of relief carvings decorating the portals (doorways), especially the main one under the tower.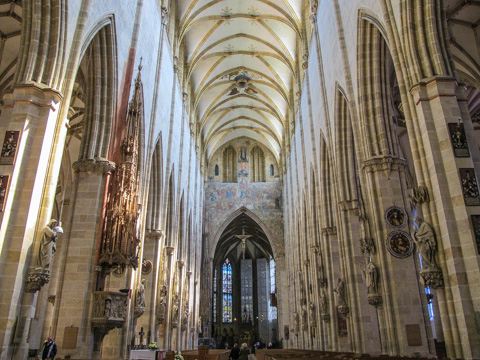 The nave of the Ulm Cathedral.
The gargantuan interior is lovely as well, a light-filled space with a double-level pulpit, delicate carved stone tabernacle, intricate wooden choir stalls, and a large Last Judgement fresco on the arch before the High Altar.
From May though September, there are half-hour noon concerts on the 9,000-pipe organ (adm) Tuesdays to Saturdays.
Tips & links
Details
Ulm Minster
Münsterplatz 1
Tel. +49-(0)731-379-9450
Ulmer-muenster.de
Open daily Nov-Feb 9am–4:45pm; Mar & Oct 9am–5:45pm; Apr-Jun & Sept 9am–6:45pm; Jul-Aug 9am–7:45pm
» Last tower admission 1 hr before closing
Adm
How long should I spend in the Ulm Cathedral?
That depends on how good you are on a Stairmaster.
It takes a solid half hour of huffing and puffing to scale all the way to the top of the tower, so make it worthwhile by spending at least 20 minutes up there, drinking in the views (and getting back your breath).
Add another 15 minutes for the decent, and 40 minutes to wander the rest of the church, and you're probably looking at about 100 minutes total.
Useful links & resources
| | |
| --- | --- |
| The Travel Store | |
Details
Ulm Minster
Münsterplatz 1
Tel. +49-(0)731-379-9450
Ulmer-muenster.de
Open daily Nov-Feb 9am–4:45pm; Mar & Oct 9am–5:45pm; Apr-Jun & Sept 9am–6:45pm; Jul-Aug 9am–7:45pm
» Last tower admission 1 hr before closing
Church: free (Adm to climb tower)