Ravensburg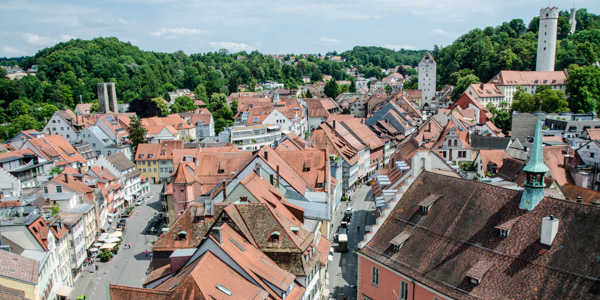 The medieval town of Ravensburg.
A medieval city bristling with towers that celebrates its tradition of puzzles and games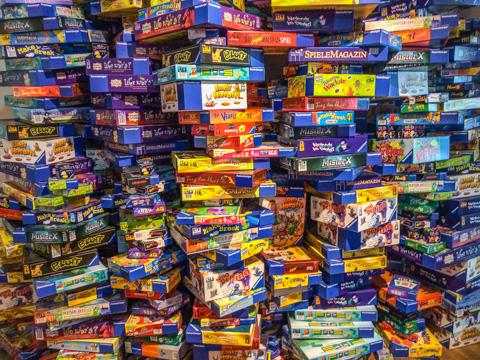 An artful display of board game boxes at the Ravensburger Museum.
This lively little city of 50,000 sat at the intersection of two major international trade routes in the 14th and 15th centuries, turning it into a bustling mercantile center of the late Middle Ages and still an economic lynch pin of Upper Swabia.
Ravensburg is still ringed by the medieval towers that once picked out the ring of its city walls—luckily, it was never targeted by World War II bombs like so many other historic German cities.
Perhaps this is because its most famous local industry was not exactly involved in the war effort: Ravensburger, the internationally famed publisher and manufacturer of puzzles and games.
The Welfs: From Ravensburg to the American Revolution
Ravensburg's other claim to fame is as the ancestral seat of the Welf family (usually rendered "Guelph" in English), a Frankish dynasty that started in a castle on the hill here in 1088, and whose influence spread all across Europe.
The Welfs were, over the centuries, the Dukes of Bavaria and Saxony and Margraves of Tuscany (where their backing of the pope against the emperor sowed the seeds of the centuries-long "Guelph/Ghibelline" conflict that was instrumental in the rise of Italy's mercantile city-states and the medieval forerunners of political parties. For example, Dante was a noted White Guelph politician and ambassador whose politically motivated exile led him to turn to poetry instead).
The Welfs even produced a Holy Roman Emperor (Otto IV, 1209–1215) and—briefly—a Russian emperor (Ivan VI, 1740–41).
One line of descendants actually became the Hanovarian line in Great Britain—all those King Georges (including George III, who lost the American colonies), plus Queen Victoria).
Members of the Welf family are still kicking around today in the various fading royal households of Europe, notably Greece, Spain, and Monaco.
Towering views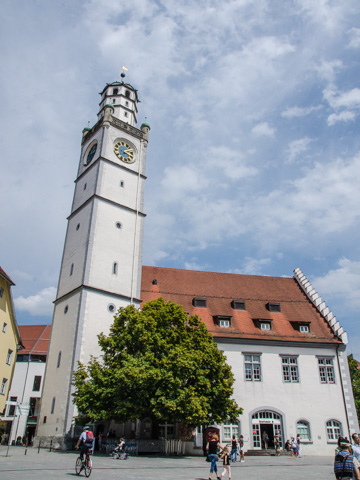 Blaserturm tower in Ravensburg.
Take the time to climb to the top of the Blaserturm tower on the central square for lovely city panoramas.
It's open mid-April to early October, daily 11am to 4pm.
The Museumsviertel (Museums Quarter)
The oldest part of town, on the narrow sloping streets tucked up under the mountain where medieval merchants built their houses at the foot of the original Welf castle, has been turned in a tiny museums quarter.
There are four museums in total, all open Tues-Sun 11am–6pm. By far the most interesting is the one dedicated to the company that was once based right here.
The Ravensburger Museum (Museum-ravensburger.de) is devoted to the games and puzzles and picture books of its most famous corporate citizen, the Ravensburger toy company, installed in the buildings where it once crafted its playthings (it now has a modern plant outside town).
This is a real hands-on museum. Yes, there are displays about its original 19th century books and board games (in 1884 they released their first, "Voyage Around the World," loosely based on Jules Verne's bestselling Around the World in 80 Days) and other historical tidbits.
But mostly there are plenty of games to play, from oversized versions of its board games (Labyrinth is a favorite) to computer terminals for making art and others showcasing forays into 21st century children's publishing.
Next-door is the new Kunstmuseum (Kunstmuseum-ravensburg.de), an art museum built in a modern architectural style but using medieval bricks (nice touch) and showcasing contemporary art exhibits alongside the Selinka permanent collection of German Expressionist and other mid-20th century works by Ernst Ludwig Kirchner, Otto Mueller, and Wassily Kandinsky.
Across from the Ravensburger Museum is the Museum Humpis-Quartier (Museum-humpis-quartier.de), an intriguing local history museum installed in 60 rooms across seven buildings to trace daily life and urban cultural history from the 1100s to today.
(Fun fact: The Humpis family, who once owned most of these buildings and whose history is traced inside, had a dog as the charge on their coat of arms. You know how, in heraldry, there are so-called attitudes, or standard poses, for heraldic animals? Like a classic "lion rampant" [rearing up on hind legs, front paws clawing the sky], or a "unicorn passant" [walking] or a "griffin couchant" [lying on all fours with head raised]? Well the dog on the Humpis heraldry is doing what you would expect a dog to do if one of the medieval spellings of its family name was "Hundtpiss.")
Tips & links
Tourist information
Turismus Ravensburg
Weingartner Hof
Kirchstrasse 16
Tel. +49-(0)751-82-800
Ravensburg.de
How long should I spend in Ravensburg?
A few hours is sufficient to see the museums and climb the tower.
Ravensburg is a lovely, lively small town to wander about and have lunch, so plan on a half a day total.
Useful links & resources
| | |
| --- | --- |
| The Travel Store | |
Tourism info
Turismus Ravensburg
Weingartner Hof
Kirchstrasse 16
Tel. +49-(0)751-82-800
Ravensburg.de