Lichtenstein Castle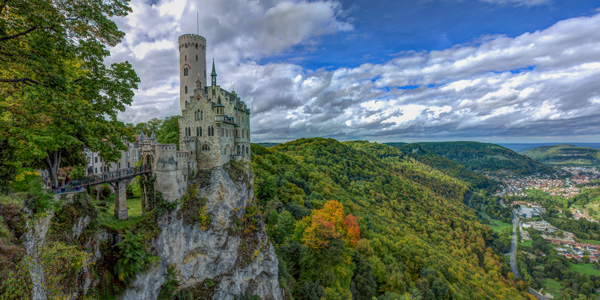 Lichtenstein Castle perched atop its cliff in Upper Swabia. (Photo by S.I.B Fotos)
Lichtenstein Castle, rising out of a sheer cliff face above a stream-fed valley in the Swabian Jura, is one of those postcard-perfect Romantic-era castles built in the 19th century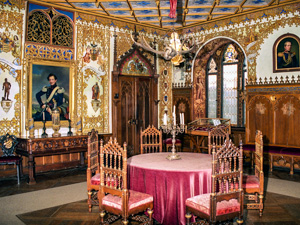 A room in Lichtenstein Castle. (Photo courtesy of Schloss Lichtenstein)
Yes, there was a medieval castle here, but it was destroyed and then fell into ruin, replaced by a more modest hunting lodge for the King of Württemberg in 1802.
So the stepped-roof keep and tall white tower rising from the edge of the cliff you see today is one of those patented German 19th-century Romantic confections of a Neo-Gothic castle, built in 1840–42 by Duke Wilhelm of Urach, Count of Württemberg, to evoke the glory days Middle Ages.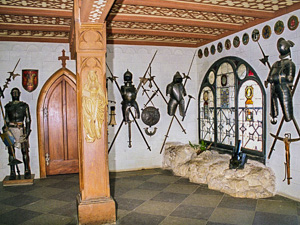 Armor lines the walls of Lichtenstein Castle. (Photo courtesy of Schloss Lichtenstein)
Wilhelm was inspired to expand his uncle's old hunting lodge with this faux-medieval confection by a popular 1826 historical novel called Lichtenstein: Romantic Saga from the History of Württemberg by prolific local writer Wilhelm Hauff (still known to German children for his beloved fairy tales) set in and around the castle that stood here in the early 1500s.
It's a 30-minute hike up here from the village, and you are free to cross the drawbridge and wander the courtyard with your basic admission, but to see the densely decorated and richly patterned rooms, collections of arms and armor and medieval panel paintings, and the stained-glass windows of the chapel inside you need to take a 30-minute tour.
Tips & links
Details
Schloss Lichtenstein
Lichtenstein (off the B312 about 20km south of Reutlingen)
Tel. +49-(0)7129-4102
Schloss-lichtenstein.de
Apr-Oct: Daily 9am–5:30pm;
Feb-Mar and Nov: Sat-Sun 10am–4pm.
Adm
How long should I spend in Lichtenstein Castle?
Expect to spend at least 90 minutes—50 for the walk up and back, and another 40 to explore the castle and take the tour. So budget two hours.
Useful links & resources
| | |
| --- | --- |
| The Travel Store | |
Details
Schloss Lichtenstein
Lichtenstein (off the B312 about 20km south of Reutlingen)
Tel. +49-(0)7129-4102
Schloss-lichtenstein.de
Apr-Oct: Daily 9am–5:30pm;
Feb-Mar and Nov: Sat-Sun 10am–4pm.
Adm