The Porsche Museum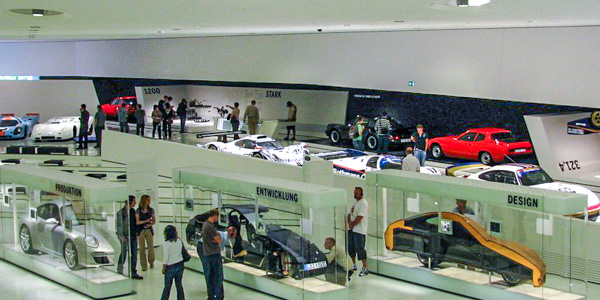 The Porsche Museum in Stuttgart. (Photo by Sebastian Jakubik)
Gear up for the classiest speed on four wheels at the newest car museum in Porsche's hometown of Stuttgart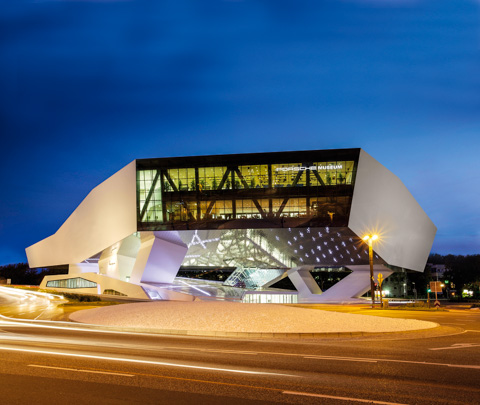 The architecture of the Porsche Museum. (Photo courtesy of Porsche-Museum © Uli Jooss).
This mighty flying wedge of a museum opened in 2009 to showcase the history of the planet's most lusciously curvaceous luxury sports car.
The space showcases some 80 models of sleek Porsche machines, including the 1939 "Type 64" prototype and the 1948 Porsche 356 "No. 1" Roadster from which all future Porsches owe their lineage.
Only the first section is strictly historical, tracing the engineering efforts of Ferdinand Porsche from his early days at the turn of the 20th century tinkering with hybrid gas-electric motor cars (no, this is not a new idea; Porsche built one in 1898), to his creation in 1938 of the original VW Beetle.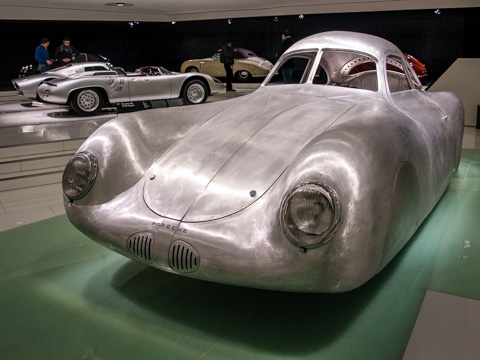 The Porsche Type 64. (Photo by Matthias Wicke)
(Porsche created the VW at the behest of Hitler. Perhaps understandably, the museum does not spend too much time on the part of the story where Ferdinand was a proud member of the Nazi party and SS official who also designed Tiger and Panzer tanks for the war effort).
Other sections examine themes of Porsche design: speed, power, materials, technology, engineering and style.
There's also a workshop on-site where you can watch mechanics at work restoring classic Porsches.
Tips & links
Details
Porscheplatz 1
Stuttgart-Zuffenhausen (a northern suburb)
Tel. +49-(0)711-9112-0911
Porsche.com/museum
Tues-Sun 9am–6pm
Adm
S-Bahn: S6 to Neuwirtshaus/Porscheplatz
How long should I spend in the Porsche Museum?
If you came out here in the first place, it's because you love it, so give it a good 2–3 hours.
Useful links & resources
TOURISM INFO SIGHTS
TRANSPORT

LODGING


| | |
| --- | --- |
| The Travel Store | |
Details
Porscheplatz 1
Stuttgart-Zuffenhausen (a northern suburb)
Tel. +49-(0)711-9112-0911
Porsche.com/museum
Tues-Sun 9am–6pm
Adm
S-Bahn: S6 to Neuwirtshaus/Porscheplatz