Baden-Baden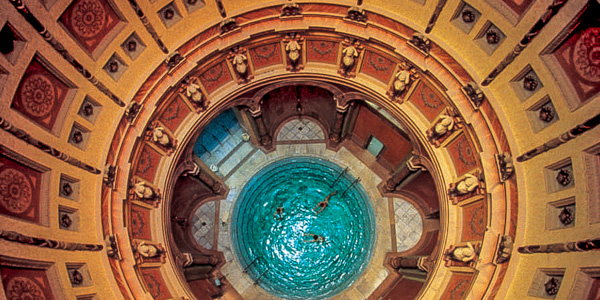 The Kuppelbad room at the Friedrichsbad spa in Baden-Baden. (Photo courtesy of CARASANA Bäderbetriebe GmbH)
The Black Forest spa town so nice they named it twice
The Friedrichsbad spa in Baden-Baden. (Photo courtesy of CARASANA Bäderbetriebe GmbH)
Baden-Baden means "Baths-Baths," has been spa town since the Roman era—you can even visit the remains of the ancient soldiers' baths complex (www.badruinen.de) beneath the stately 1869 Friedrichsbad "Irish-Roman" baths facility (www.carasana.de)—which, if you have to pick one baths in which to spa, this would be the one. (Though its more modern sister property, the Caracalla, is also tempting.)
Yes, it was the 19th century when this town really came into its own as the summer capital of Europe, when the rich and powerful and royal flocked here to stroll the riverside Lichtentaler Allee/Kaiseralle boulevard (well, the nobility used carriages), and to take the cure—soaks, massages, and every treatment you can imagine—in the ornate baths complexes, many designed in Neoclassical grandeur by Friedrich Weinbrenner and his followers.
And, of course, they had to see and be seen in the storied Casino, which under the direction of French impresario Jacques Bénazet (and later his son Edouard) became the Monte Carlo of the middle 1800s.
The Kurhaus Casino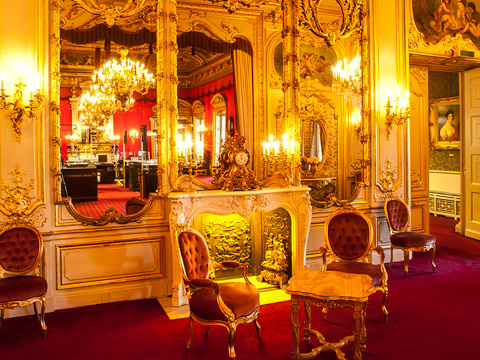 An elegant room at the Casino Baden-Baden. (Photo courtesy of Casino Baden-Baden)
When you enter the 190-year-old Baden-Baden Casino (Casino-baden-baden.de), you might wonder if you wandered into a baroque palace: Rich red velvets and brocaded silks, gilded frippery and decorative stuccoes, ceiling frescoes and oil paintings, ornate golden chandeliers and mirrors.
You half expect to see the head of SPECTRE playing baccarat with a tuxedoed James Bond at the high roller table.
Well, it was designed to impress, and the decor in the French palaces of Versailles and Fontainebleau did in fact, serve as models, along with Belle Époque sensibilities.
The fortunes of the casino have risen and fallen with the fashion of Baden-Baden over the centuries, but it remains one of the most elegant gaming houses in all of Europe.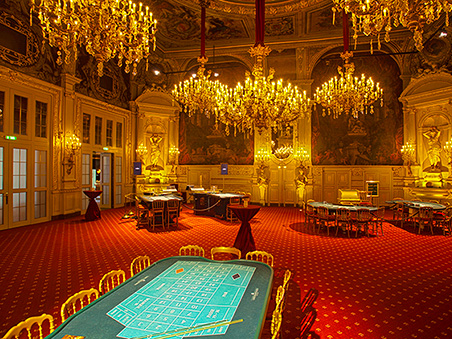 A gaming room at the at the Casino Baden-Baden. (Photo by Martin Dürrschnabel)
You don't have to be a gambler to take a peek, but you will have to part with at least some money as there is a small admission fee (€1 for the slots, €5 for the gaming rooms).
You also have to be 21 or over, and bring a passport as ID or you won't get in, and there is a dress code: Neat casual for the slots; jacket and tie for men in the gaming rooms (they provide rentals if your wardrobe isn't up to snuff). The old rule about skirts or dresses for women seems to have been relaxed in the era of sensible slacks—but please, no matter what gender, do not visit in shorts and/or a T-shirt.
If you do not care to gamble, are underaged or under-dressed, or simply want a more informative visit, you can take a 25-minute guided tour of the Kurhaus (€7) in the morning before the gaming starts (9:30–11:40am Mar 23-Oct 31, 10–11:30am Nov–Mar 22).
Some sights and entertainment to go with your bathing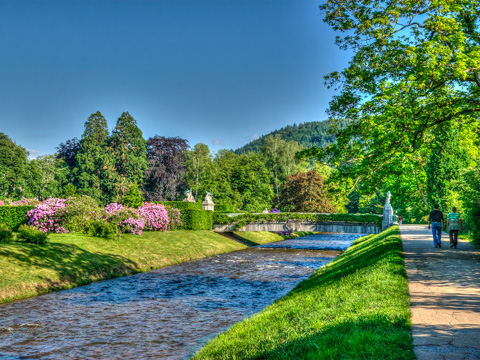 A path by the Oos River on the Lichtentaler Allee. (Photo courtesy of CARASANA Bäderbetriebe GmbH)
If you are jonesing for some culture, the modern little Museum Frieder Burda (Museum-frieder-burda.de/) on the Lichtentaler Allee contains paintings by many 20th century masters—some Picassos; German Expressionists and post- like Max Beckmann, Georg Baselitz, and Anselm Kiefer; and international Abstract Expressionists like Pollock, Rothko, and de Kooning.
The neighboring Staatliche Kunsthalle Baden-Baden (Kunsthalle-baden-baden.de/) hosts temporary exhibits of largely contemporary works.
Just behind the Friedrichsbad on Marktplatz is what little remains of the old city, including the Stiftskirche, a Romanesque-Gothic-Baroque Hall church containing several elaborate rococo tombs and the 5.4-meter-tall stone Crucifix carved in 1467 by Nicolaus Gerhaert von Leyden.
North of the center is Europe's second largest opera house, the modern and acoustically amazing Festspeilhaus (Festspielhaus.de).
Why is it called Baden-Baden?
This is actually quite boring.
See, it was called "Baden" because it had been a spa town for 2,000 years. There are also towns called "Baden" in Austria and Switzerland (and one called "Bath" in England) for the exact same reason.
Then this particular Baden became the seat of a Margraviate, dutifully called the Margraviate of Baden. (A Margrave is the Holy Roman Imperial equivalent of a French Marquis; lower than a Duke, higher than a Count.)
That therefore also became the noble title, which is to say the name of the last family that inherited the Margraviate. (Bored yet?)
Then the family tree got tangled—as they so often do—and got entangled in Europe's great Catholic-Protestant split in the early 16th century. The noble line was divided into two houses. The Protestant branch based themselves at Durlach, and therefore—according to noble naming conventions of the day—became the Baden-Durlach line.
This meant that the local, Catholic branch of the family became the Baden-Baden line.
See, told you it wasn't interesting.
Also, "Baden-Baden" has a nice ring to it, so it also became a bit of a marketing tool starting in the 19th century when the town hit its heyday: This is not just a spa town, it is a spa town so spa-riffic it's actually called "Spa" twice!
Tips & links
Baden-Baden tourism information
How long should I spend in the Baden-Baden?
If this is just a sightseeing stopover for you, you can do it in a morning: Tour the Casino, stroll the Lichtentaler Allee, and be out around lunchtime.
If you are planning on hitting one or more of the baths, spend at least two days.
If nothing else, this is a vacation destination, so there are plenty of hotels to suit any budget.
Useful links & resources
| | |
| --- | --- |
| The Travel Store | |
Info
Kaiserallee 3 (in the Trinkhalle)
Tel
. +49-(0)7221-275-200
Baden-baden.com
[There's another office in a northern suburb right off route 500 highway at Schwarzwaldstraße 52]